Our 6th AAPN Regional Conference in New York this past Wednesday was simply spectacular. We never know how these events will develop. THIS one was full of surprises.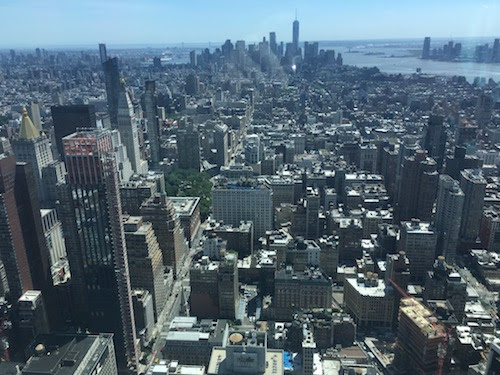 First, the setting on the 68th and then 71st floors of the Empire State Building gave world class views. Then, we had a series of member testimonials to help those new to the AAPN better understand who we are and our value. Tony Anzovino gave his high speed yet fully detailed overview of trade leadership in the Americas by product and by country.
Hebe Schecter is President of Kaltex America, a 20,000 person production enterprise with operations in Mexico, Colombia and elsewhere. She gave a talk about her company, their customers and pressures from the industry. Yet, it was the fact that here we had a woman CEO talking. It gave the idea to Sue Strickland and Jill Coleman that maybe its time for a woman-only AAPN function.
Finally, our guest speaker was Matt Hornbuckle of stantt.com. He was a pure startup, no industry knowledge but an idea for a better fitting mens' shirt. Read all about it on stantt.com. We had well over a half hour of Q&A with Matt.
Many thanks to our sponsors for the June 13 AAPN New York Regional Conference to Kaltex, Lectra, Sourcing Journal and World Textile Sourcing.
On Thursday we had two additional events. First I hosted a roundtable at ProColombia on sourcing from there. Then in the afternoon, we joined 400 others for the Trailblazers program hosted by AAPN member Alvanon. It was a spectacular line up of speakers and panels on sizing and fit.
As the saying goes, "80% of success in life comes from just showing up". We did and many thanks to those of you who joined us.