I truly wish to thank Maureen Fahey, Managing Partner of Productivity, Inc for sending me the attached article, with background on its importance to her and the industry. Rather than cut and paste the content, I've decided it better to have you visit the link because the photos are so amazing – it is called American Manufacturing Doesn't Have to Die
It is about the Made in USA brand American Giant and its US supply chain, in DEPTH. We were fortunate to have American Giant CEO Bayard Winthrop on the program of our 2014 Annual Conference, as shown here: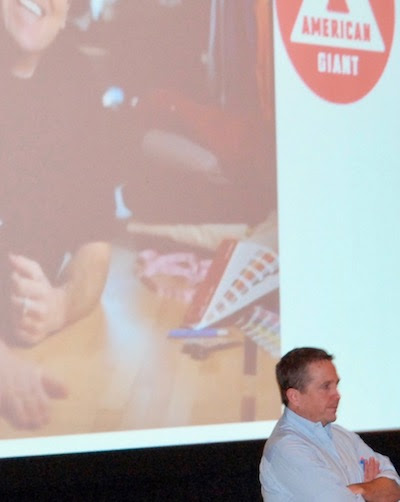 Several years ago, we went on a drive to see our members in North and South Carolina, 1,000 miles. One stop was at Carolina Cotton Works (CCW) in Gaffney, SC. We met with Bryan Ashby. It was terrific meeting and when we got up to leave, Bryan said, "there's one more thing" and he told us his American Giant story.
Basically, he cold-called on them saying he could get their fabric made right here in the USA. One thing led to another and you end up with the story you're about to read – which is one of the best in-depth stories about a supply chain I have read in my 28 years in this industry.
In this article, they profile Page Ashby. This is Page now and also back when he was quarterbacking the North Carolina State football team:
Page has been calling the plays for a long time and scoring often. Here is part of the article profile of him and CCW: "Carolina Cotton Works is very literally a family business. It was founded in 1995 by Page Ashby, who now runs it along with his sons, Hunter and Bryan. The facility, with huge machines that dye and soften the fabric, feels warm and kind of homey. CCW has been with American Giant since the startup's very beginning, and that long relationship is evident in the masculinely affectionate relationship between Winthrop and the Ashbys. ….. (their) quality is due in part to constant innovation at all levels of the chain, including CCW.
As the Ashbys tell Winthrop — who then explains what they said to me, making sure I understand (I don't) — they've recently added a tenner frame to the dyeing process for slub fabric; it reduces twist and torque, as slub fabric tends to twist and torque, which is bad. What I do understand is that adding the tenner frame is pricey and not strictly necessary, but that the team at Carolina Cotton Works has chosen to do it anyway. And according to Winthrop, the cost of the addition isn't passed on to American Giant nor the American Giant customer.
The article profiles yet another AAPN member, Parkdale Mills, and really dives into their operation. Here is a short extract: "Parkdale Mills is a much slicker operation than Carolina Cotton Works. At Parkdale, plant manager Robert Nodine shows off an app on his phone that tells him how productive all of the machines in the plant are. He says it's the first thing he looks at in the morning and the last thing he looks at night. ….. The mill is where, after being picked and ginned, cotton is blended (like a "cabernet," Nodine explains, so that the various textures are evenly distributed and consistent) and then spun into yarn. The facility doesn't only make yarn for American Giant — far from it; it services hundreds of companies, over 25 plants in six states. It owns US Cotton, LLC. It makes your Q-tips. It's an enormous operation, and eerily clean, with an elaborate filtration system. It processes 750 bales of cotton every 24 hours, and the bales, to be not-so-scientific about it, are super-huge".
And now, onto the article,  which you will find here.