What follows is an extraordinarily brief summary of our recent annual conference. Truly, you 'have to be there'. It is not a matter of taking notes, but of interacting, of watching coversations and questions each stop on the agenda generates. Also, half of the duration of our 3 day, 2 night event i set aside specifically for networking, LOTS of it.

The AAPN pro:Americas Annual Conference, May 6-8, Four Seasons Miami. 210 attendees (including 43 women) from 111 companies and 9 countries.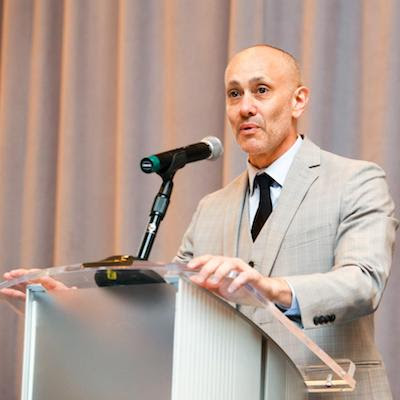 Connecting the Dots: Sourcing in the Americas & AAPN
Laura Guthrie, Sr. Production Manager and Paulina Loyo, Manager Global Social Compliance, Haggar Clothing Company. Trade data by category by country in the Western Hemisphere, and AAPN member operations in each country.
Determined Disruption, Tim Lyons, Founder, The Lyons Den Group
The best disruption is when you encourage it to happen internally and not to wait for it to happen and then have to react. If we are disrupting, we are on the offense.Think more about possibilities than restrictions. Brands as a product (coke, race for less); as an experience (Nike, growth); as a cult (Tesla, the future)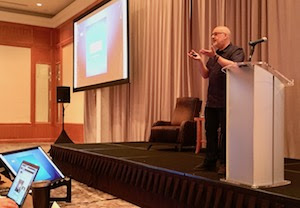 Kurt Cavano, President, Infor GT Nexus Commerce Network
Technology is advancing at exponential speeds still and that those that sit still will be passed up. Robots will be in apparel factories in the next 7 to 10 years especially given the power of GPU and their ability to do Artificial Intelligence and adapt now at remarkable speeds. In 2017, 7 million Americans had Audio AI (an Amazon Echo or similar). Today it is 39 million. This is not a linear progression. In Visual AI, a car teaches itself to drive.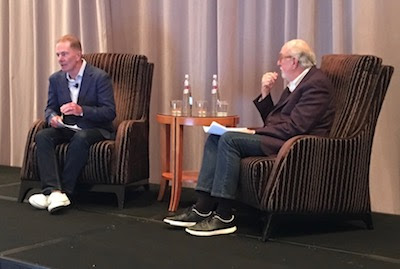 Robin Lewis, Founder & CEO, The Robin Report
Moderated by Ed Gribbin, CEO, Gribbin Strategic LLC
Small runs are the future and that the days of retail (big box stores) dictating what is manufactured days are seeming to be more and more limited. Speed to market will rule. The world has excess production capabilities so many have turned to discounting to get the edge. Website and Web Experiences must cater to the individual needs of the buyer with their tastes in mind and using their information to build experiences relative to their personal likes.
Traditional retail stores, to survive, are going to have to be about the experience. The experience, the networking, the fun and the want to be there is what will allow them to survive. Nordstrom is well ahead of the curve in that respect with Target making large plans to do just that. The consumer is driving the retailer, driving the current basis of competition. If you are a retailer with a factory in your town, you will be the most efficient and profitable in the US. Change your brand by getting it faster. Late inventory is slower than your consumer's attention span. This is the distribution century.
A Case Study on the Carolina Mill Tour – A review of the format, break outs, supply chain and skill transfer of the first of many tours. What will change for our next tours.
Ron Roach, President, Contempora Fabrics
Jay Hertwig, Group VP/Global Brand Sales, Unifi
Aaron Ledet, VP Americas Sourcing, VF Corporation
Laura Guthrie, Sr Production Manager, Haggar Clothing Co
Futurecast: Retail Innovation & Sourcing's New Role, Roberto Ramos, SVP Global Strategy & Communications, The Doneger Group
DISRUPTION: Urgency; Problem Solving; Anti-Establishment; Intuition; New Collaborations; The Power of Local.
AAPN Executive Committee Moderated by Rick Horwitch, VP Global – Two discussions – where do you think the industry will be like 10 years from now, specifically what will be the same. And what did you do 10 years ago that got you to where you are today.
Ed Gribbin, Senior Advisor, Alvanon
Kurt Cavano, President, GT Nexus
John Strasburger, President, US & Latin America, TexRay Industrial Co
Tony Anzovino, Chief Sourcing & Merchandising Officer, Haggar Clothing Co
Juan Zighelboim, President, TexOps