AAPN held it 10th AAPN Regional Conference on Sep 12 at the offices of Haggar Corporation in Dallas Texas. This is the 4th time Haggar's Tony Anzovino, President of AAPN has hosted this conference.
We welcomed 95 people in Dallas, just over 50% are women and millennial attendance is creeping up (34% in Portland on August 15 – 40% in Dallas).

A highlight of the evening before was a meeting of the AAPN(Women)'s group for dinner and roundtable.
The aggressive program put together by Tony and his team included 8 speakers, 3 of whom are on the Haggar staff, and two panels – one of 3 executives on technology, moderated by Pam Peale, VP Global Sales and US PLM Operations, DeSL, and the other of 5 millennials moderated by Rick Horwitch, VP Global Retail & Supply Chain Strategy at Bureau Veritas.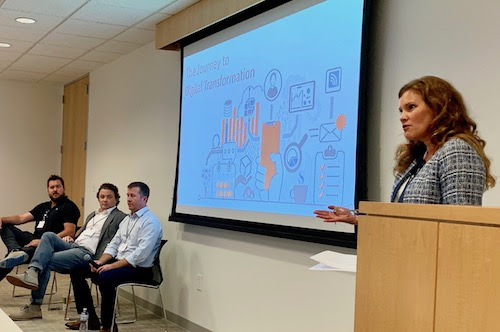 The two panels were of the same high quality that we would schedule for our Annual Conferences. AAPN learned long ago that the best speakers on industry issues are our members today, not outside sources.
The event featured a long coffee break, a leisurely lunch and time afterwards for what its our mission and our namesake – networking.
AAPN Managing Director Mike Todaro closed the conference saying, "the road to success is always under construction, and we're the industry's Department of Career Transportation".