There are some fantastic articles coming out of our Los Angeles Regional Conference. This one, by California Apparel News's Associate Editor Dorothy Crouch provides a great round-up of the wisdom that all of our panelists- and myself – had to share last week.
Why Apparel Sourcing in the Americas Is Important for the U.S. Market
California Apparel News: Dorothy Crouch, Associate Editor | Thursday, February 15, 2018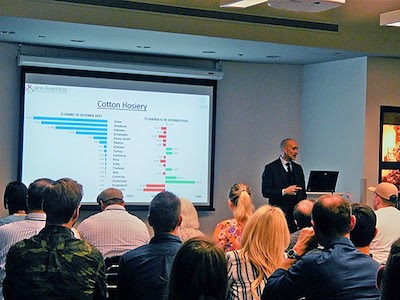 "There is a staggering number of brands that never left this industry," said Mike Todaro, managing director of the Americas Apparel Producers' Network, an international trade association whose members manufacture in the Americas and promote maintaining and building up the industry. "The general feeling that we had was there has been so much investment in yarn, fiber and fabric, and finishing in this hemisphere like Honduras but also in the Carolinas."
The AAPN, now in its 37th year, held its Los Angeles Regional Conference on Feb. 8 at the Fashion Institute of Design & Merchandising in downtown Los Angeles. The event was attended by a number of Americas-based textile and apparel manufacturers as well as technology companies that support the apparel industry.
Members discussed product development and manufacturing in the Americas—a conversation that focused on banding together to support the industry in the region. Read More